Elaine Lim Orthodontics Clinic Services: Treatment of Teenagers
Dr Elaine Lim believes in providing excellence in orthodontic care, by not only aligning the teeth, but ensuring the facial and lip balance is enhanced and respected.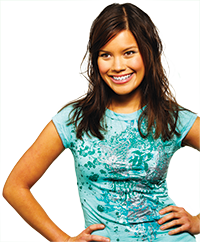 You may have heard that traditional teenage orthodontics can involve the use of 'Headgears for Class II Malocclusion' and 'Adult Tooth Extractions'. Dr Elaine Lim does NOT use Headgears for these cases (instead she uses modern alternatives) and attempts wherever possible to preserve healthy adult teeth.
A teenager may have the choice between braces and aligner plates. Dr Elaine Lim uses orthodontic appliances which have higher social acceptance balanced with excellence in results.
Options for correction of orthodontic problems:
Correction of orthodontic problems requires 'appliances' to move the teeth and normalise jaw foundations. There are different options available. The suitability of these depends on individual factors and these will be discussed at your treatment planning appointment.
Braces: There is a big difference between brands of braces. At Elaine Lim Orthodontist Clinics only use the highest quality created with advanced technology. We are able to provide 'discrete' tooth coloured type braces for those who want a look that 'blends in' and braces with 'colours'. [Insert image of teenager model wearing Clarity 3M Braces Ceramic Type. Image will be provided]
Non-Braces Options: Clear Aligners and Plates are an alternative option to Braces. These can address certain tooth alignment problems. These can be designed to assist improved dental development and enhance natural eruption of the adult teeth.
Jaw surgery can be avoided if a child's jaw is encouraged to enhance its growth at certain stages of development. This means the 'correct' foundations are provided from which the teeth can erupt into the mouth more in an improved position. This will also lead to exciting facial profile changes which is the consequence of a more balanced and harmonious jaw relationship.
Expansion Appliances: Expanding the jaw to correct narrow foundations provides the opportunity for teeth to align into a broader smile. It can also avoid the need for adult tooth extractions. Special plates or smooth wires passing between the teeth can be used to enhance narrow smiles.